When Should You Upgrade to a Better Outdoor TV?
Discover How Samsung and SunBriteTV Improve Your Outdoor Entertainment Experience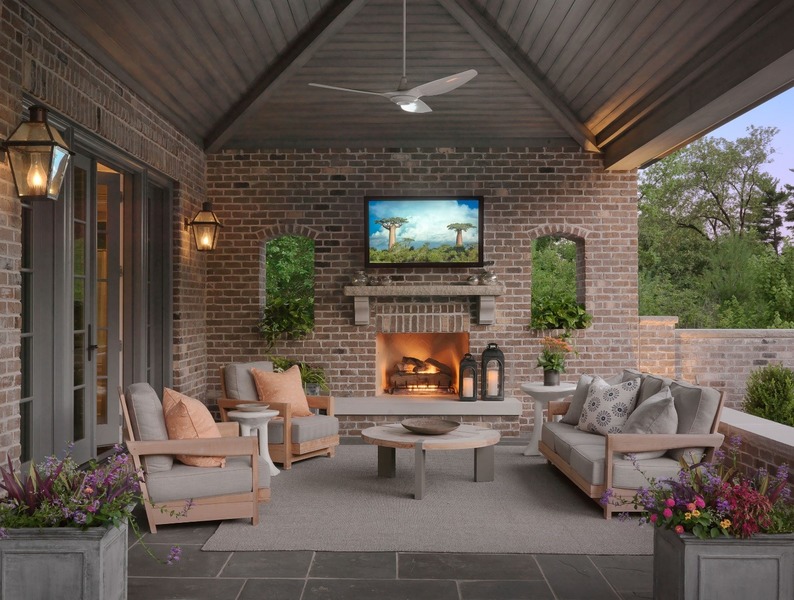 If your guests don't want to go outside during your big party, it may be because your backyard is missing something. You've got landscape lighting, a stunning outdoor audio system, and a beautifully landscaped yard. So, what else do you need? Give them something to really enjoy – a 4K outdoor TV with HDR technology. You and your friends can enjoy a lively game, watch a movie, or binge-watch a favorite TV show.
With an outdoor TV from makers like Samsung and SunBriteTV, your home in Scottsdale, AZ, will become a place for entertaining friends and family. Read our blog to learn how a state-of-the-art TV can be a big crowd-pleaser at your next party.
SEE ALSO: A Whole New Experience With Whole-House Audio
SunBriteTV: Watch TV Outside in Full Sun
One of the reasons you aren't happy with your outdoor TV viewing experience is because you may be watching shows on an indoor TV. It's a common mistake to put indoor TVs outside. Unfortunately, they simply cannot provide the brightness and vivid detail needed to compete with the sun. The same is true for an older outdoor TV.
Today's technology has improved outdoor TVs dramatically. In fact, SunBriteTV allows you to watch movies and shows outside in the full sun. The Pro 2 Series is an ultra-high-definition (UDH) 4K TV with high-dynamic-range (HDR) imaging. It delivers a brilliant, vivid picture in even the brightest outdoor environments. Also, it's 4X brighter than an indoor TV. You and your guests will be able to see the image on the brightest days.
SunBriteTV also offers the Veranda and the Signature series. The Veranda works well in shaded areas, and the Signature series is designed for use in partial sun. All three of their models feature superb displays, are weatherproof, and handle extreme temperatures. They come in many sizes – from 43" to 75". To add even more luxury to your outdoor experience, you can sync your TV, outdoor lighting, and audio with your smart home system for complete control.
Samsung Terrace: For Your Outdoor Viewing Pleasure
No matter the season, you'll enjoy your Samsung Terrace TV every day of the year. Its vivid and bright display offers the full spectrum of color contrast for stunning realism and details. Not only is the Samsung Terrace a 4K HDR TV, but it features QLED technology. Similar to an LED TV, QLED uses nanoparticles (or quantum dots) to boost the brightness, color, and contrast. It delivers more than a billion shades of color. The result is a TV screen that never blurs or fades in the sun.

In addition, the Terrace uses anti-reflection technology. That means no viewing problems due to glare and washout caused by the sun's rays. The Terrace comes in three sizes: 55", 65", and 75."

Whichever TV you choose, we'll link it up with your smart technology, so you can change channels and adjust the volume by voice command or with a Control4 tablet.

Ready to improve your outdoor experience with a SunBriteTV or Samsung Terrace? Call Desert Sound and Security at (877) 246-5458 or visit our online contact page. We look forward to hearing from you!

No video selected.